Recorded talk with V. K.Narasimhan on Sai Baba, his colleges
his 'sect' and his ignorance of worldly knowledge

D
ate of conversation and notebook record: 1st January 1996 (continuation of long notes from marathon session with VKN, my wife Reidun and I at Prashanthi Nilayam)
Transcript of handwritten notes in black text, comments in purple (see scan below):

Narasimhan The Ancient Marinier Pt. Two
N. told that all the teachers and students at the Sai colleges in Puttaparthi are very disdainful of the Vice-Chancellor, Hanumanthappa. He rules viciously and troubles the teachers no end. He was thrown out of B'lore University Vice Chancellorship due to huge dissatisfaction - he was even attacked, and he came to Puttaparthi. After two years Swami made him Vice-Chancellor. The students are all disgusted at it? He is a rude and harsh martinet.

Comment: It seems Hanuman treads in his Master's footsteps there, who is known for harshness when criticised or crossed and rudeness to many persons in interviews.
__________
N. said that, though Sai says he has not come to start a new sect, all that is seen here is nothing else but a sect.
Comment: a sect that has become a secretive and unaccoutable cult since the sexual abuse revelations in 1999 and afterwards.
_______
N. said that Sai is continually showing that he knows little or nothing of the world - he picks up ideas from professors and others and presents them as if he were the source, but he gets them mixed up into the bargain. Further, he says all computers are rubbish, but his Super-speciality hospital is totally dependent on them. Prof. Sampath has tried to explain to Sai the role of computers in U.S. society etc. but Baba does not take any notice.

Comment: In a discourse 15/10/1999, he said: "Swami has nothing to do with internet. Not only now, even in future also You should not indulge in such wrong activities. This disease' has its roots in cities and is spreading like wild fire into villages polluting the village environment."
Comment: Sathya Sai Baba also required - in 2000 - that devotees should not go on the Internet. Embarrassingly (for an all-knowing avatar) he has had to swallow a camel on computers. His organization now exploits the Internet to a huge extent to promote him. Paradoxically, considering Sai Baba's later ban on computer use, the head of that centre, who I met even as far back in 1998, had put together components to make a 'Sai computer' and had a room full of them for students' use and teaching them at Prahsanthi Nilayam college.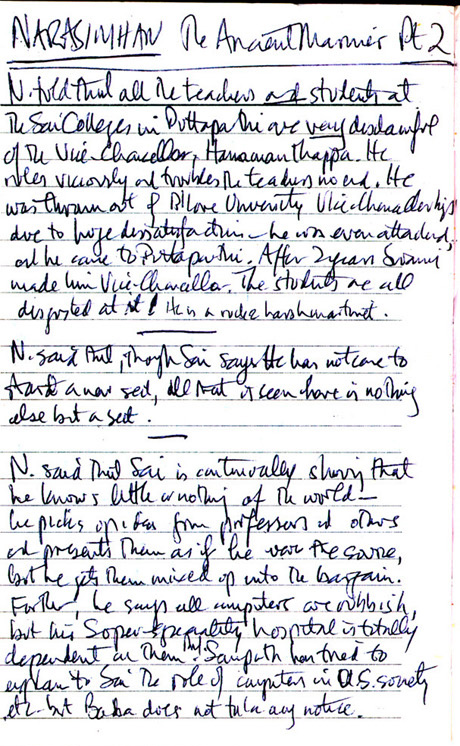 1) Print this Page 2) Use right click here - then 'Open page in new window' to translate

Return to index menu