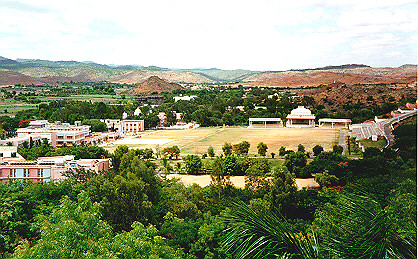 The Sri Sathya Sai Hill View Stadium

is an enormous plateau on a hill behind The Higher Secondary School and The Eshwaramma School. It consists of

a Pavilion and a Shantivedika Stage. This plateau is used by the University during the games in January each year and also for normal sports-activities. It is also used for world-conferences, acting, music and other mass meetings in Prasanthi Nilayam. On the top of the hill is the statue of Hanuman; on the way to the top we find the statues of Jesus, Buddha and Shiva.

Click on the pictures of the statues, so that you can see them better; the statue by the side of Jesus has no extra enlargement.